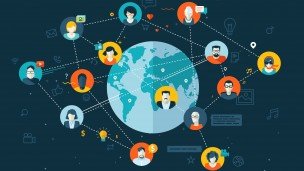 The CCNA course indicates a foundation in and apprentice knowledge of networking. An individual that has the CCNA certification can install, configure, and operate LAN, WAN, and dial access services for small networks (100 nodes or fewer), including but not limited to use of these protocols: IPV4 , IPV6, EIGRP, Serial, Frame Relay, VLANs, OSPF v2 , OSPF v3, Ethernet, Access List.
Pre-requisite: 
We strongly advise the students to acquire good networking knowledge before trying this certification. Our CompTIA Network+ Certification Training Course is the best way to get prepared for the CCNA course.
Course Content
The Topics that are covered in the 200-301 (Latest CCNA Syllabus) include:
Network Fundamentals
Network Access
IP Connectivity
IP Services
Security Fundamentals
Automation and Programmability
Infrastructure Security
Infrastructure Management
Why obtain a CCNA career certification?
The CCNA certification lays the foundation for all other Networking certifications, validating your knowledge skills, ensuring the ability to tackle the newest, cutting-edge technologies.
For Whom
Network Administrators
Computer Engineers
Database Administrators
Students
Job Seekers or anyone that requires Computer Networking Skills.
Commencement Date
Date: 6th September 2021 (weekday)
* Participants can still join 2 weeks after the class commencement date.
Duration
Duration: 72 hours over  (2) Months. Three (3) hours each day, Mondays, Wednesday, Fridays.
Class Periods
9:00am-12:00noon (weekdays).
1:00pm-4pm (weekdays).
10:00am-2:00pm (Saturdays Only)
Training Methodology & Benefits
Multiple training delivery methods are employed including Lectures, Demonstrations, Practical, Self Practice and workshop using real-life case study with particular reference to Nigerian situations. The training is at least 80% practical.
Benefits
CCNA Training manuals for renowned authors
Latest Packet Tracer software
Practice exams questions
A training certificate of accomplishment
Payment Methods
Interested individuals can pay using the following methods:
Pay at the centre of your choice
Pay to the bank using the following bank details
Account Number: 2011745387
Account Name: HiiT Plc
Bank: First Bank
Payment Types
Full Payment (Attracts 5% discount of Course Fee)
Installmental Payments (First Payment= 60% of Course Fee)
| | |
| --- | --- |
| Location | Price |
| Abuja | ₦80,000 |
| Lagos | ₦60,000 |
| Kano | ₦65,500 |
| Ibadan | ₦40,000 |
HiiT Plc is one of the best schools when it comes to information technology with a conducive environment for learning and they have really nice staff.HiiT plc has really made an impact on my life, i am willing to refer any person who wants under-go a course in Information Technology to choose HiiT Plc.
ONYESUE E. MAXWELL

A worthwhile experience I must confess. I must say a big thank you to the management and facility at HIIT. For the comprehensive, effective, structured and most importantly the hands-on-lab experience I received on training. The instructor was fantastic, well- mannered and hardworking. He indeed exceeded my expectations.
Akogun Oluwaseyi


Whoa! First and foremost, I just have to thank God for directing me to the "Right path"(HIIIT). HIIT is a place, I mean an IT training center where you get a qualitative and well packaged training than what you paid for, I would really appreciate if you can do vibrant publications to bring more people to this eye-opening IT paradise.
OSAYEMI SUNDAY PHILIPS


I have come across lecturers, teacher and instructor but someone like Sir T is rare; because he is indeed one of the solutions Nigeria needs in the era of change. He has indeed pieced CCNA and has converted me from a novice to an Expert, I m proud of him, in proud of HIIT. As far as the world of CCNA is concerned, I'm good to go into the field and defend myself and configure anything. All glory to God, I can now boldly say, I'm a Network Administrator. #No shutdown #Exit.
JOHNSON OLUWAGBEMI.


The just concluded training has really changed my mindset about unemployment and idleness. This training is from the best IT center have ever attended, the instructors and students are understanding. HIIT should continue this program in order to convince other people being confused about unemployment.
FATOKI OLANREWAJU.


I had a thorough session of drilling of LAN Switching and routing. Looking forward to future relationship and opportunities. I will surely recommend the institution as one of the best around.
OGUNDARE OLUSEGUN M.


I am personally glad I embarked on the pursuit of the CCNA training and I am extremely happy I chose the right institution. HIIT has delivered what they promised, what they guaranteed and their staffs are well qualified. Shout out to Mr. Taiwo.
TOWOLAWI MONSURU OLAJIDE


No doubt HIIT is a place to be, their instructor is a mind blowing man which I drop my cap for. The kind of training I got here is incomparable with other institutes quote me any where, anytime. All HIIT Staff are highly welcoming people.
ODEYEMI THOMAS OLABODE


I experienced an in-depth and elaborate CCNA training from my instructor TAIWO. He humbled himself and broke down the course for easier comprehension. In all he demonstrated using real-life practical examples in all chapters of the course. He is dedicated, determined and has the utmost zeal to coach students.HIIT's environment was absolutely conducive for studying and they made available all resources for effective assimilation of the course.
EGEDIGWE UCHENNA O.E.


HIIT is an institute that helps in building the future and career of we young ones to achieve more in life. Mr Taiwo Adebayo is a professional Instructor, a man of honor, dignity and morals. People don't realize how a man's whole life can be changed by one book. I was quite nervous before coming here for the training but he made me feel at ease. He is very easy to get along with and very patient. The way he impacted knowledge is fascinating. Very interesting and appealing. God Bless Mr Taiwo, God bless HIIT PLC.It's been great and lovely training in your institute with good and quiet atmosphere. The instructor has been the best in teaching us. I have had the best 6weeks lecture. Thanks for everything.
Okafor Victor Udoka


I want to say a Big Thanks to my instructor and motivator Mr Taiwo Adebayo who has implanted knowledge and understanding into my life through CCNA program. He pinged the passion and dream in my world heart) with an IP address of "You will be Great" and with this I believe I will telnet into the world of Greatness. Thanks and God Bless you Sir .
SAlIU NOAH OLUWALOGBON.


So far so good, I have been very impressed based on the quality of training undergone in this course and organization. I wish this organization more wisdom to attain the desired level or height.
Olaniyan Wasiu


I am personally glad I embarked on the pursuit of the CCNA training and I am extremely happy I chose the right institution indeed HIIT has delivered what they promised, what they guaranteed and their staffs are well qualified. Shout out to Mr. Taiwo.
Poopola Temitope Olawale


The course was very rich. I never regretted choosing HiiT for my training. The instructor is the best and God will continue to bless him greatly. I also appreciate the reception from the front desk.
OMOBODE SULEIMAN SUNDAY


The learning environment in HIIT is the first learning environment I have ever been in that is very conducive for learning. The tutor, Mr. Taiwo is at what he does, going to all extent to give us examples and the best explanation ever.
Hassan Sodiq A


Okay, my time here at HIIT plc has been a worth while experience and if given the same opportunity, time and chance, I'll definitely come back to this organization for more certifications. Based on the instructor, Mr. Taiwo, he has been a blessing to me and for the fact that I came here a novice and leaving a "Guru" , he is gifted and experienced. My thanks to him. And to the Organisation, the flexibility of the price or amount is really helpful and I really appreciate you all. Thanks.Training at HIIT is none to be compared with, as I have received quality standard training from a well seasoned tutor. I had a great time training at HIIT.
Okunola Ayodeji A


It's been great and lovely training in your Institute with a good and quiet atmosphere. The instructor has been the best in teaching us. I have had the best 6weeks of lecture and learning in this institute has been fantastic for me

Okafor victor udoka


It's been fun all through the course and I really learnt a lot from the course. I want to thank the management for making this place a comfort zone during the duration of the Cisco CCNA Course. I really appreciate it.
ONOJA PETER


So far so good, I have been very impressed based on the quality of training i received during the CCNA training course and i very pleased with HiiTplc. I wish HiiT Plc more wisdom to attain their desired level or height.
OLANIUN WASIU ADEKUNLE


HiiT Plc has been so good when it comes to I.T, the instructor happens to be the best so far, the staffs are humble, descent, punctual and neat always, conducive training environment.
AYOMIDE AYONBODE


It was really rich. I never regretted chosen HIIT for my training. The instructor is the best and God will continue to bless him greatly. I also appreciate the reception from the front desk. They are friendly and welcoming. I will miss them all, especially the way Mr. Taiwo talks.
Omodibo Suleiman Sunday